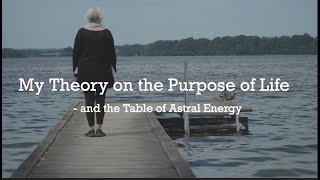 SCIENCE
The material on this website can be divided into two main categories:
Education
Science
In the category of science is my 'Theory of The Purpose of Life'. In this film I present my theory about the 12 rays in the Universe which creates the foundation for all astral energies. The astral energies are the type of energy in our body that is our emotions. The film has following sections:
The basis for, purpose form and limitations of the theory
What the energy body contains, where it comes from, its three types of energy, and the role of the soul.
The essence of my theory – the astral energy that is in us and around us
The energy ´settings´.
Consciousness – the function that controls the energies that are in and around us
How astral energy is transformed
In conclusion – sources, animals, and research material
It is possible to read the entire manuscript in the blog-section. Use the categories on the right.
(1) My Theory On The Purpose Of Life – and the Table of Astral Energy – YouTube