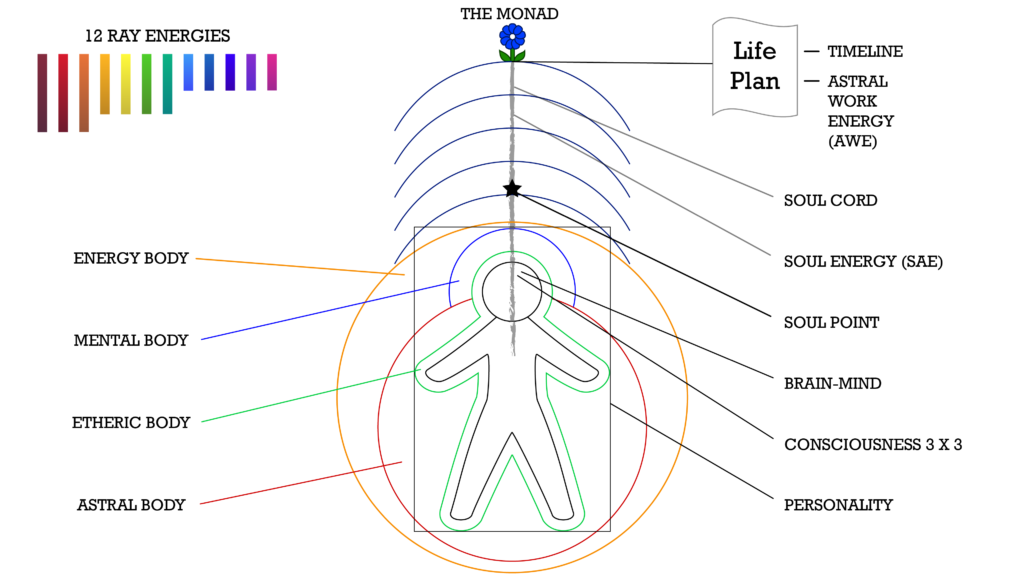 Before I run through my whole theory, I´d like to start by giving a short and very quick review of the terms I´ll be using to explain my theory. I´ll be introducing a number of new expressions and hope that by giving you this overview of the terms used in the topics I´ll be talking about, it will clarify things and enable you to follow the structure of the overall presentation.
You can always refer back to this overview illustration if you are in doubt about anything during the film. This overview will not be shown again in the same form during the rest of the film but in some figures the abbreviation of the energy names will be shown.
1 – These are the 12 ray energies (Basic Astral Energies 1-12/BAE)
2 – This our energy body, which includes the physical body, the mental body, the astral body and the etheric body.
3 – Here is the brain and the mind
4 – This is the monad – where our soul originates from.
5 – This is the soul thread or cord that contains the soul energy, linking the monad to the physical body via the soul attachment point.
6 – The soul energy in the soul thread contains our own accumulated soul energy, which holds our personal version of the 12 ray energies (Soul Astral Energies/ SAE)
7 – This is the soul attachment point which is approximately 30 centimeters above the top of the head.
8 – Before we incarnate to a physical body, a plan is made of the incarnation. This includes a timeline as well as a plan of the material in the form of the energy we will have to work with. (Astral Work Energies/AWE)
9 – Consciousness which I divide up into 3 times 3 groups. Respectively: memory, attention and tools, which are the divided into the earthly plane, the soul plane and the monadic plane. 10 – Very simply put, this part can be described as the personality in this incarnation, but exactly where this starts and finishes should not be taken too literally.